Supporting 21st century learning between home & school.
Our Strategic Learning Technology Appraisal
Read the Executive Summary of the Strategic Learning Technology Appraisal conducted by consultancy Next Learning  this year.
West Leederville Primary School Guide
What iPad should my child bring to school?
Recommended specs are iPad 9th Gen
64GB minimum is recommended.
Has WiFi capabilities. 4G is not required, nor recommended.
iOS 16
If you currently have an iPad at home that meets these requirements, your child is most welcome to use that.
Where to purchase your iPad?
Families are free to make their own decisions about where to purchase their iPads.
Comp Now  has special offers to buy through our portal to West Leederville Primary School families. Information will be updated as it becomes available.
[/vc_row_inner]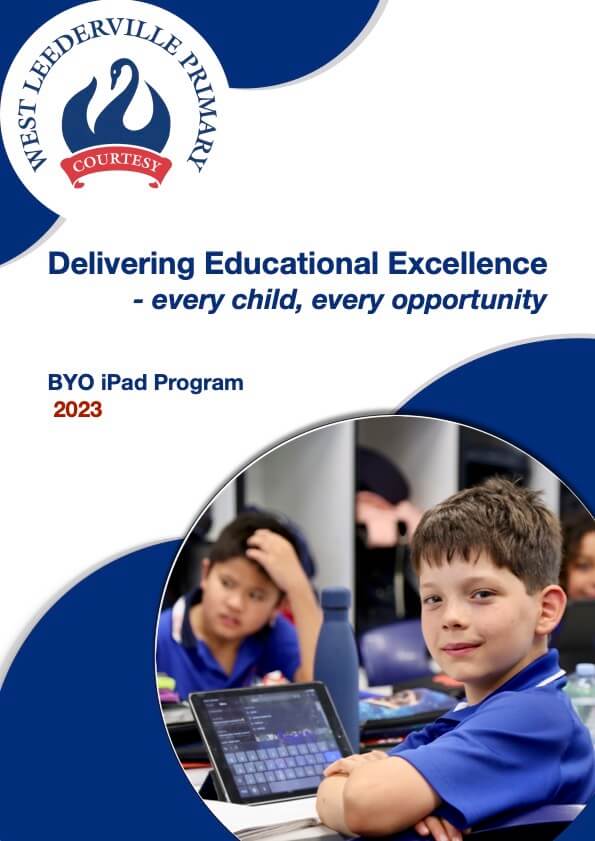 In order to keep the iPad safe and well-protected, it is compulsory for all students to purchase an appropriate iPad cover.
Safety with your iPad 
Our Internet connection at West Leederville Primary School is filtered through The Department of Education.
TFX install an additional layer of restrictions on our iPads – We -cannot filter 3G/ 4G.
Students will only be using Apps that are approved education Apps whilst at school.
Parents may wish to set up an appropriate rating based on their family values and restrict content in the restriction setting selection on iPads.
School WI Fi and Internet connection
Students' iPads will be connected to the School's Wi-Fi when at school.
3G/ 4G is not advisable.
Insurance and Protection
Your iPad is not covered by West Leederville Primary School or The Department of Education's  insurance policy.
You may wish to check with your home and/or contents insurer if your existing cover extends to an iPad being brought to school by your child.
All Apple hardware comes with a one-year limited warranty and up to 90 days of complimentary telephone technical support.
It is recommended you extend your coverage further with the AppleCare Protection Plan.
3. Apps
All school apps will be supplied and installed by the school through Jamf.
Family sharing can be turned on at home to allow apps downloaded through your own iTunes account to be shared amongst devices in your home.