Delivering Educational Excellence
1898
On Tuesday, 1 November 1898, the Minister for Education and Colonial Secretary, George Randell, MLC officially opened West Leederville School. The majority of the 91 children enrolled at the school had been born outside Western Australia.
1902
In 1902, the number of students enrolled at the school continued to increase with over 300 children on the roll. Tenders were called in late 1901 for a new classroom to accommodate 50 children a teachers' room and verandah to be added to the school, as per the 1897 plan, along with an additional hat room.
1903
In 1903 proposed additions comprising two new classrooms, each with a corner fireplace and movable grading, extension of the corridor to a new boys' entrance, a third corridor, and new boys' hat room and lavatory. Tenders were called and the contract was awarded to W. C. Rose at a cost of £667 7s.
1905
The number of students continued to grow, and 384 students were enrolled at the school in 1905. Sketch plans were prepared for an additional classroom, and approval was granted.
1910
In 1910, 437 children were enrolled at West Leederville, and the average daily attendance was 352, which qualified it for a hall. A new hat room and new corridor were included in these works.
1912
1912, Leederville had grown to around 1,400 homes, of which around 80% were owner- occupied. With the continuing increase in population, additional accommodation was sorely needed at the school. In May 1912, tenders were called for building a further classroom, opening from the 1910 corridor.
1913
In September 1912, as the enrolment continued to increase, sketch plans were drawn for another classroom to be added to the school. Completed in March 1913, final plans show a new classroom to open from the hall, and adjacent to that recently completed.
1923
In August 1923, tenders were called and final plans were drawn for the addition of a classroom to West Leederville School, to open from the hall.
1941
In the early World War Two period, again there was insufficient classroom accommodation. The main hall and a cloak room were utilised as classrooms, and a local Church hall was hired for one class. In early July 1941, a pavilion classroom from moved from Bayswater School to West Leederville. A stage is added to the hall.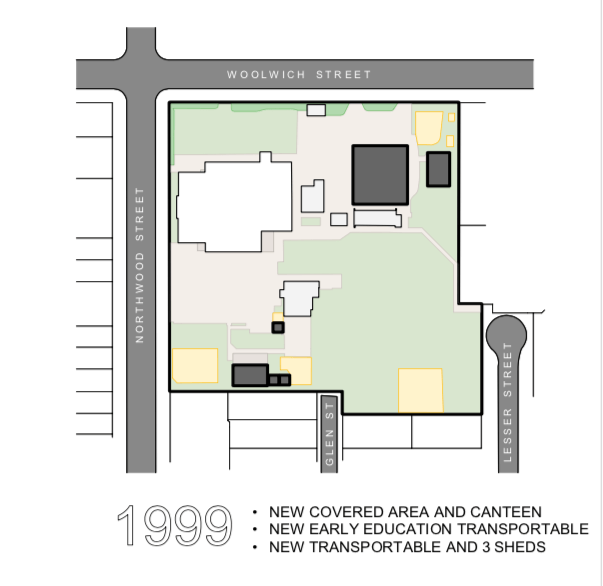 1999
In the late twentieth century, the Education Department implemented a policy to provide covered assembly areas at all schools. In January 1998, plans were drawn for a covered assembly area, canteen and store to be built at West Leederville Primary School.
2010
Plans for a new library wing, incorporating a music room and art/science room are drawn up. Building is completed in 2010.